Welcome to Debate Wiki
Debate Wiki has 172 articles since September 14th, 2018!

About Us
Debate Wiki is about providing information on various character feats, respect threads, and misc info on verses, and having debates about your favorite fictional verses or real life topics! If you have any suggestions for a page please let us know and we will consider changing it. Please be respectful of one another and keep debating civil.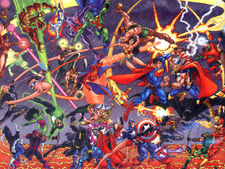 "Feats" are displays of a character's powers and skills.
"Statements" are sources that prove what something is or how strong a character is.
"Respect Threads" are a detailed essay explaining what a character has done and is capable of.
"Soloing" means that one character is capable of taking on an entire verse or group of people by themselves.
"Hax" are abilities that give a character an edge in battle.
News
Place Holder
Place Holder
Place Holder
Place Holder
Place Holder
Place Holder
Place Holder
Rules and guidelines

Rule 1. No pornography or nudity.
Rule 2. Fanart is allowed to be added to a page but it must be about official material from a series. Not things like Super Saiyan 10 Goku or Gear 9 Luffy.
Rule 3. Vandalizing pages will result in a two-week ban. If you do it again you're permanently banned.

Rule 4. Be respectful to everyone. Admins that includes you too.
Rule 5. If you're being harassed by someone here please provide evidence and we will take care of it. Admins are not above being punished for this either.
Rule 6. Please request to have a paged altered if you want to add additional information or clear up misinformation.
Rule 7. No un-ironic racism, sexism, or orientation bashing.
Rule 8. No saying "L" or "W".
Rule 9. Do not edit any pages without admin approval.
If you see this, your JavaScript might be disabled or DiscordIntegrator plugin isn't working. If the latter, please contact a wiki administrator.